Meet Dr. Lenzi
Dr. Yassamin Lenzi was born and raised in Brazil. She fell in love with dentistry at a young age, watching her mother practice dentistry and spending a lot of time in her dental office.
Dr. Lenzi graduated from Universidade Federal de Pelotas in 2012 and worked as a general dentist at Rastegary Oral Rehabilitation Center until moving to Chicago in 2015. She earned her Doctor of Dental Medicine from the Advanced Standing Program at University of Illinois at Chicago in 2017. Dr. Lenzi completes continuing education each year to ensure she stays up-to-date on all the latest techniques and technology in dentistry. Most recently, she added to the services she can offer her patients by undergoing advanced training in facial aesthetics. She is certified to administer BOTOX®
Dr. Lenzi lives in Cape Coral with her husband and son. She enjoys spending time with her family and friends, exercising, and keeping a healthy lifestyle. Dr. Lenzi is an avid foodie who enjoys sampling cuisines from different cultures.
Dr. Lenzi is fluent in English, Portuguese, and Farsi. She is an active member of:
American Dental Association
Academy of General Dentistry
Florida Dental Association
Chicago Dental Society
Hispanic Dental Association
---

Meet Dr. Arencibia
Dr. Ana Arencibia joined the Lee Dental Care team in 2022. She has been in dentistry since 2014. Growing up in Cuba, she observed how lack of adequate dental care led to older family members being unable to keep their teeth into their later years. This ignited a passion to devote her career to helping people feel happy about their smile.
She began her career as a Dental Assistant, gaining clinical experience while continuing her education towards becoming a Dentist. Dr. Arencibia holds a BA in Biology from Florida International University and a Doctorate in Dental Medicine from the University of Florida. .
While in dental school, she gained clinical experience by completing rotations in hands-on patient care at dental clinics and providing emergency dental care at the University of Florida Student Oral Surgery Emergency Clinic. In addition, she has volunteered her time providing patient care through FreeDOM, a mobile dental clinic as well as the WeCare Clinic, a permanent free dental clinic.
Dr. Arencibia is passionate about dentistry. She is driven by her desire to help each of her patients feel happy about their smile. Caring and compassionate, she creates a soothing environment in which anxious patients can relax and get the dental care they need.
Dr. Arencibia is fluent in English and Spanish. She is an active member of:
Academy of General Dentistry
Florida Dental Association
---

Meet Dr. Pupo
Dr. Lorena Pupo joined Lee Dental Care in 2022. As an orthodontal patient during many years of her adolescence, she recognized the potential of dental care to improve self-esteem and confidence. As a result of that experience, she has dedicated her professional life to helping people maintain good oral health and change lives through helping them have healthy, beautiful smiles.
A native of Cuba, Dr. Pupo began her dental training by attending dental school at the University of Medical Sciences in Havana. After migrating to the US, she graduated Summa Cum Laude from the University of Florida with a BS in Biology and Magna Cum Laude from the University of Florida College of Dentistry with a Doctorate in Dental Medicine. During dental school, she gained clinical experience by volunteering her time to treat patients at the FreeDOM mobile dental clinic and the WeCare Clinic.
Dr. Pupo's patients appreciate her friendly, relatable demeanor. Her caring, empathetic approach builds trust with patients so she can work with them to achieve their oral health goals. Seeing her patients' confidence and happiness improve as a result of the work she's done fuels her passion for providing the best possible dental care.
In 2010, Dr. Pupo moved from Cuba to the US. She lived in Syracuse, NY and Gainesville before settling here in Fort Myers with her husband. A lover of animals and nature, she enjoys outdoor activities, especially going to the beach. Other favorite free-time activities are running and listening to music. She is fluent in English and Spanish.
Dr. Pupo is fluent in English and Spanish. She is an active member of:
Academy of General Dentistry
American Association of Women Dentists
Florida Dental Association
---

Meet Dr. Schulert
Dr. Devan Schulert joined our team in 2022. He became interested in becoming a dentist when he saw the impact dental treatment can have on others' lives after shadowing a dentist in high school. Dr. Schulert holds a Bachelor of Science in Biology from the University of Detroit Mercy and a Doctorate of Dental Surgery from the University of Detroit Mercy School of Dentistry.
Dr. Schulert is committed to providing his patients with the highest standard of care. Friendly and likable, Dr. Schulert makes his patients feel at ease from the start. He connects with his patients to build trust and ensure they are comfortable with him. Dr. Schulert is especially effective with teenaged patients as a result of working from 2015 through 2018 in motor industry and sports organization roles where he mentored young people in life skills such as integrity, etiquette, work preparedness, and leadership.
Born and raised in Kingsville, Ontario, Dr. Dr. Schulert moved to Fort Myers to escape the cold. In his spare time, Dr. Schulert enjoys playing golf, fishing, and spending time with friends. He loves watching sports and cheering on his favorite teams - the Detroit Red Wings, Michigan Wolverines, Detroit Titans, and Indianapolis Colts.
---

Meet Dr. Rothberg
Dr. Daniella Rothberg started her career in dentistry in her native Brazil, earning a DDS from the Universidad do Porto in 1997. She practiced in Brazil and Portugal before bringing her passion for dentistry to the US. Her career in dentistry has included experience working in all clinical roles. When she first came to the US, she worked as a Dental Assistant for four years while seeking a Registered Dental Hygienist license. She then practiced as a Dental Hygienist for several years as she pursued her Doctorate in Dental Medicine from Nova Southeastern University College of Dental Medicine. In 2022, she brought her 25 years of clinical experience to the Lee Dental team.
As a teenager, Dr. Rothberg fell in love with dentistry as she made numerous trips to the dental office for orthodontic treatments. Her experience across all clinical roles, and as a patient who has experienced ongoing treatment gives her a uniquely comprehensive understanding of dental practice operations and the patient experience.
Compassionate, funny, and warm, Dr. Rothberg is very effective in helping anxious patients manage their fear of dental treatments. She is committed to transforming patients' lives by restoring their smiles, and with it, their self-confidence. In addition to her academic and clinical training, Dr. Rothberg is has completed advanced training in cosmetic dentistry and prosthodontics.
After leaving her native Brazil, Dr. Rothberg lived in California, Washington, and Miami before settling here on the beautiful Gulf Coast with her husband. In her free time she enjoys reading, biking, going to the beach, and travelling. Her hobbies include oil painting and photography. She is fluent in English, Spanish, and Portuguese.
---

Meet Dr. Uliasz
"Since I can remember, I have always loved helping people. I believe that real, personal, true wealth is a feeling of fulfilment, joy, and happiness brought on by what we do for others. My purpose is to serve and help as many people as I can and leave a lasting legacy" — Dr. Uliasz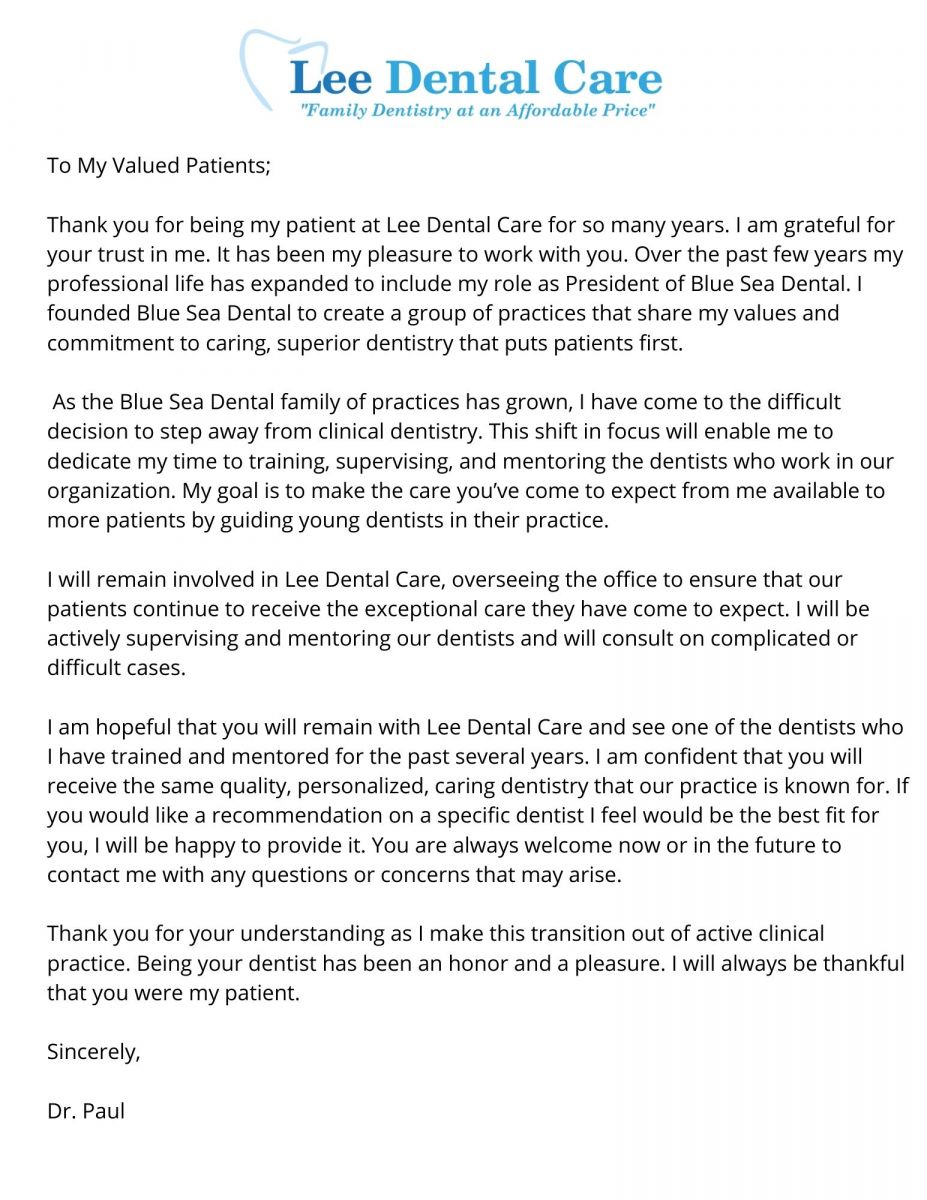 Dr. Paul Uliasz, known to his patients and colleagues as Dr. Paul, is the founder of Blue Sea Dental, a dental group that includes Lee Dental Care as well as Community Dental Care (North Fort Myers), Smile Cape Coral, Elite Dental Care (Naples), and Punta Gorda Dental Care. As President of Blue Sea Dental, Dr. Paul seeks to expand patient access to exceptional dental care by directing all the skills and knowledge he has acquired throughout his career into mentoring younger dentists and building caring, patient-centered practices. Dr. Paul remains remains active at Lee Dental Care, overseeing operations, mentoring the dentists, and supervising/assisting on complicated implant cases.
Education and Continuing Education
Dr. Paul attended Oakland University's biology program in Rochester, Michigan before graduating from Wayne State University with a Bachelor of Arts in chemistry. In 2004, he graduated from the University of Detroit Mercy School of Dentistry, where he obtained his Doctorate of Dental Surgery. During the first four years after graduation, he practiced dentistry in Michigan and Ohio. He moved to Fort Myers in 2008 in search of sunny weather and a smaller-city lifestyle.
Dr. Paul is committed to continuous education on a world-class level, to stay current with state-of-the-art procedures and dental advancements. In 2010, Dr. Uliasz completed the prosthetic program at the Misch International Implant Institute, which is regarded as the top implant surgical and restorative institute in the world.
In 2012, Dr. Paul completed the curriculum at the Dawson Academy, which is an advanced dental education course for dentists who are dedicated to learning the principles and skills necessary for the successful practice of comprehensive, quality dentistry, with primary concentrations in occlusion, temporomandibular joints (TMJ), and comprehensive aesthetic restorative dentistry. The Dawson Academy is viewed as one of the top advanced dental centers in the world for dentists committed to providing patients with comprehensive dental care.
In 2015, Dr. Paul completed the ultimate graft course presented by the Pikos Implant Institute. He was also recognized as a top dentist and featured in the 2015 edition of the Leading Physicians of the World. In 2013, Dr. Uliasz completed the master's program at the International Implant Dentistry Program in Miami. The same year, he also received mastership status from the International Dental Implant Association and became a fellow of the International Congress of Oral Implantologists.
In 2019, Dr. Paul completed an Applied All-on-4 course with Implant Seminars, the leader in continuing post-graduate dental education. In addition to learning the surgical and prosthodontic protocols, and procedures required to provide All-on-4 treatment, this course included hands-on experience performing the All-on-4 procedure on an actual patient. In 2020, he completed the PRP/PRF Implant seminar at the International Implant Center in Miami, FL. This training focused on phlebotomy techniques to enhance implant patient healing.
A firm believer that professional growth means continually building on your knowledge and skill base, Dr. Paul regularly attends trainings, workshops, conferences, and other educational activities that enable him to strengthen and expand upon his skills and knowledge.
Professional Affiliations
Outside the Office
Dr. Paul was born in Krakow, Poland and moved to Detroit when he was 14 years old. He lived most of his life in Michigan until he moved to Fort Myers in 2008.
Dr. Paul and his wife Erica have two children, daughter Avery and son Gavin, as well as two spoiled dogs, a puggle and a French bulldog. Erica is a biologist, environmental consultant, and triathelete who has most recently competed in the the 2019 Escape from Alcatraz Triathalon in San Francisco, California and Ironman Alaska in 2022.
Despite the many hours he spends guiding Blue Sea Dental's teams, Dr. Paul manages to spend quality time with his family, stay active, and maintain diverse interests. He enjoys music, reading, swimming, skiing, running, and traveling. A water activity enthusiast, Dr. Paul is an advanced open-water scuba diver. He and his family enjoy spending time on North Captiva Island, a favorite retreat of theirs.
In the Community
Dr. Paul and his team have created a giving office culture by donating their time, skill, and resources to those who cannot afford dentistry. Dr. Paul spearheaded Blue Sea Dental's Annual Dentistry from the Heart (DTFH) Free Dentistry Day events from 2014 through 2019 when DTFH limited its reach only to dental offices that are part of its founding dental group. At the most recent Dentistry from the Heart event (November 2019), 283 patients received care. This translated to over $90,000 of dentistry donated to our community.
To carry on our mission of giving back, Lee Dental Care and its Blue Sea Dental sister practices hosted a "Free Dental Care for Veterans" day in November 2021. At this event, more than 80 veterans received free dental services. The Blue Sea Dental family of practices is committed to giving back to the community by hosting this type of event and plans more in the future.
On a global level, Dr. Paul has traveled to the Dominican Republic on mission trips where, together with other dentists, he has performed surgeries and bone grafts, placed implants, and helped many patients restore their teeth.
Academy of General Dentistry
Florida Dental Association
American Dental Association
Michigan Dental Association
Florida Dental Association
West Coast Dental District Association
American Academy of Cosmetic Dentistry
International Congress of Oral Implantologists
International Dental Implant Association
International Association of Dentists
Lee County Dental Society