Meet Dr. Lenzi
Dr. Yassamin Lenzi was born and raised in Brazil. She fell in love with dentistry at a young age, watching her mother practice dentistry and spending a lot of time in her dental office.
Dr. Lenzi graduated from Universidade Federal de Pelotas in 2012 and worked as a general dentist at Rastegary Oral Rehabilitation Center until moving to Chicago in 2015. She earned her Doctor of Dental Medicine from the Advanced Standing Program at University of Illinois at Chicago in 2017.
After graduation, Dr. Lenzi moved to Florida to enjoy the warm weather and the beautiful beaches. Dr. Lenzi has been with Lee Dental Care since she joined the Fort Myers community in 2017.
She enjoys spending time with family and friends, exercising, and keeping a healthy lifestyle. She is also an avid foodie who enjoys sampling cuisines from different cultures. She volunteers her time to Dentistry from the Heart, a yearly day of free dentistry for those with no access to dental care.
Dr. Lenzi is fluent in English, Portuguese, and Farsi. She is an active member of:
American Dental Association
Academy of General Dentistry
Florida Dental Association
Chicago Dental Society
Hispanic Dental Association
---

Meet Dr. Plaza
My childhood dream was to become a dentist, to dedicate my life to improving my patients' lives and bringing back their confidence through their oral health. Having the honor of being a dentist today, I feel obligated to give back to the community the highest quality care possible in this time and age. I want my patients to feel how important it is to me that they are satisfied with the care they received at our practice." – Dr. Plaza
Dr. Efrain Plaza is committed to providing the highest quality dentistry to his patients. His goal is to listen to his patients' needs, provide the care necessary for them to achieve good oral health, and make them feel as comfortable as possible.
Dr. Plaza graduated Magna cum Laude from the University of Puerto Rico School of Dental Medicine, Medical Science Campus, with his Doctorate of Dental Medicine. Since completing his formal education, he has continued his training in implant technology and Invisalign® in order to provide the highest quality of care to every patient.
Growing up in a military family. Dr. Plaza has lived in Puerto Rico, Virginia, Texas, Massachusetts, and North Carolina. He was happy to settle in the Cape Coral area and become an active member of the community.
When he's not in the office, Dr. Plaza enjoys running, weight lifting, reading, traveling, and dining out. He is fluent in English and Spanish. He gives back to the community by participating in Dentistry from the Heart, a yearly day of free dentistry for those with no access to dental care.
He is an active member of:
American Dental Association
Academy of General Dentistry
Hispanic Dental Association
Florida Dental Association
---

Meet Dr. Perez
"I'm very empathic when it comes to the dental anxiety that patients can feel which helps me guide them to feel more comfortable during their dental visits. I'm always seeking to improve and learn to provide the best care possible to my patients." – Dr. Perez
As children, Dr. Perez and her sister were both interested in biology and how the human body functions. As adults, Dr. Perez's sister chose to pursue a career in medicine while Dr. Perez chose dentistry because of the flexibility if offers for balancing work and family life.
Dr. Annelise Perez is a native of Santa Domingo, Dominican Republic. She received her Doctor in Dental Surgery from the prestigious Universidad Iberoamericana in 2012. She came to the US to pursue a Doctor of Dental Medicine degree in the Advanced Standing Program at the University of Illinois at Chicago. After graduating in 2017, she completed a her General Practice Residency in New York at the Bronx Lebanon Hospital where she expanded upon her knowledge and clinical skills. Dr. Perez is also certified in Invisalign fundamentals.
Seeking warmth and sunshine, she moved to Fort Myers in 2018, where she also found a home here at Lee Dental Care.
Dr. Perez is committed to helping her patients improve their oral health by guiding them to a better understanding about how to prevent dental problems. She is especially effective with patients who suffer from dental anxiety, offering genuine empathy and a soothing, calming presence to help these patients overcome their fear.
In her free time, she enjoys reading, working out, running, playing violin and spending time with friends and family. She gives back to the Fort Myers community by donating her time to Dentistry From the Heart.
Dr. Perez is fluent in English and Spanish. She is an active member of:
American Dental Association
Academy of General Dentistry
Florida Dental Association
---

Meet Dr. Morse
Dr. Keith Morse graduated from the University of Florida College of Dentistry in 1999 and has been a trusted provider of quality dental care to patients in the Fort Myers ever since. Before joining Lee Dental Care in 2018, he practiced at Community Dental Care in North Fort Myers in for 18 years.
Dr. Morse knows that every patient's needs are unique and provides personalized care that reflects this understanding. He is committed to educating patients about the range of treatment options, incorporating the latest technology and techniques. He creates a comfortable environment where patients can relax knowing they are being cared for by a dentist they can place their trust in.
When he's not helping patients smile, he volunteers at the Fort Myers ADA chapter's Project Dentists Care which provides dental care to those who do not have access to dental care. His favorite leisure activities include camping with his family and cheering on the Gators!
He is an active member of:
American Dental Association
Florida Dental Association
Lee County Dental Society
West Coast Dental Association
---

Meet Dr. Klamut
" To me, dentistry is so much more than a profession. It is something I am truly and strongly passionate about. It allows me to have a tangible impact on the lives of my patients, while simultaneously utilizing the desire and passion which I hold as a means to serve others." — Dr. Klamut
Dr. Jacob Klamut was born and raised in Elyria, Ohio, a suburb of Cleveland. Prior to dental school, he earned his Bachelor of Science in Biochemistry from Kent State University, where he graduated with honors. Dr. Klamut then continued on to earn his Doctor of Dental Surgery from The Ohio State University in 2017. During his time at OSU, he also served on the executive board with the Psi Omega Dental Fraternity.
After spending two years in a private practice following graduation, he decided to pursue his long time dream of moving to the sunshine state in search of warmer weather and the water.
In his free time, Dr. Klamut and his fiancé Jackie, enjoy working out, playing sports, spending time on or near the water, and traveling. He is looking forward to becoming involved in the community through his participation with Dentistry From the Heart and other various outreach events.
He is an active member of:
American Dental Association
Florida Dental Association
Academy of General Dentistry
Ohio Dental Association
---

Meet Dr. Uliasz
"Since I can remember, I have always loved helping people. As a dentist, I am able to help improve people's lives every day. Knowing that my work can help my patients gain back their self-esteem and confidence makes me feel very fulfilled and happy. I am very grateful for being able to serve my patients and improve their lives. I believe that real, personal, true wealth is a feeling of fulfilment, joy, and happiness brought on by what we do for others. My purpose is to serve and help as many people as I can, and leave a lasting legacy." — Dr. Uliasz
Education and Continuing Education
Dr. Paul Uliasz attended Oakland University's biology program in Rochester, Michigan before graduating from Wayne State University with a Bachelor of Arts in chemistry. In 2004, he graduated from the University of Detroit Mercy School of Dentistry, where he obtained his Doctorate of Dental Surgery. During the first four years after graduation, he practiced dentistry in Michigan and Ohio. He moved to Fort Myers in 2008 in search of sunny weather and a smaller-city lifestyle.
Dr. Uliasz is committed to continuous education on a world-class level, to bring his patients the best and the latest available, state-of-the-art procedures and dental advancements. In 2010, Dr. Uliasz completed the prosthetic program at the Misch International Implant Institute, which is regarded as the top implant surgical and restorative institute in the world.
In 2012, Dr. Uliasz completed the curriculum at the Dawson Academy, which is an advanced dental education course for dentists who are dedicated to learning the principles and skills necessary for the successful practice of comprehensive, quality dentistry, with primary concentrations in occlusion, temporomandibular joints (TMJ), and comprehensive aesthetic restorative dentistry. The Dawson Academy is viewed as one of the top advanced dental centers in the world for dentists committed to providing patients with comprehensive dental care.
In 2015, Dr. Uliasz completed the ultimate graft course presented by the Pikos Implant Institute. He was also recognized as a top dentist and featured in the 2015 edition of the Leading Physicians of the World. In 2013, Dr. Uliasz completed the master's program at the International Implant Dentistry Program in Miami. The same year, he also received mastership status from the International Dental Implant Association and became a fellow of the International Congress of Oral Implantologists.
A firm believer that professional growth means continually building on your knowledge and skill base, Dr. Uliasz regularly attends trainings, workshops, conferences, and other educational activities that enable him to strengthen and expand upon his skills and knowledge. His goal is to direct all acquired skills and knowledge throughout his career as a dentist into providing the best quality of care for patients of all ages.
Professional Affiliations
American Dental Association
Michigan Dental Association
Florida Dental Association
West Coast Dental District Association
American Academy of Cosmetic Dentistry
International Congress of Oral Implantologists
International Dental Implant Association
International Association of Dentists
Lee County Dental Society
Outside the Office
Dr. Uliasz was born in Krakow, Poland and moved to Detroit when he was 14 years old. He lived most of his life in Michigan until he moved to Fort Myers in 2008.
Dr. Uliasz and his wife Erica have two young children — daughter Avery and son Gavin — as well as two spoiled puggles. Erica is a biologist, environmental consultant, and recently completed the 2017 Ironman Triathlon World Championship in Kailu Kona, Hawaii.
Despite spending 70 hours a week in the dental field, Dr. Uliasz manages to spend quality time with his family, stay active, and maintain diverse interests. He enjoys music, reading, swimming, skiing, running, and traveling. His attraction to water-related activities has led him to become an advanced open-water scuba diver.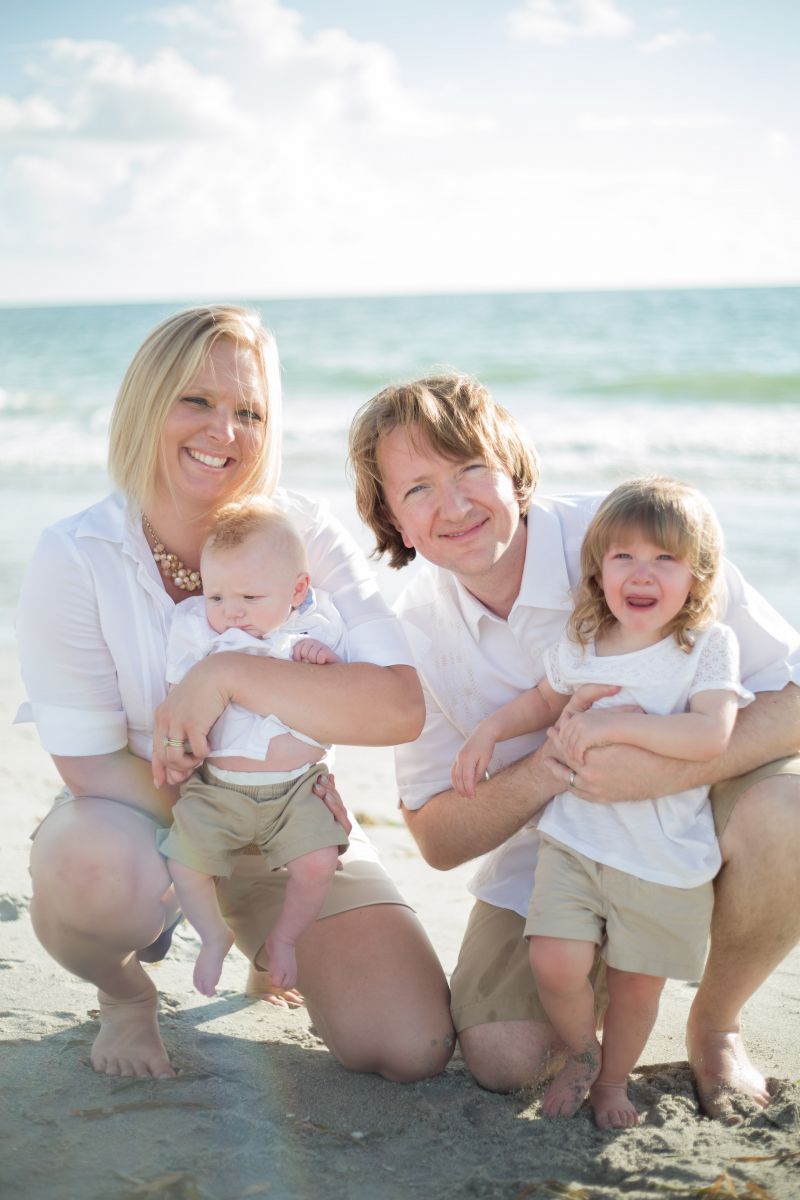 In the Community
Dr. Uliasz and his team have created a giving office culture by donating their time, skill, and resources to those who cannot afford dentistry. In November 2014, Dr. Uliasz started the First Annual Free Dentistry Day at his practice, when anyone age 18 and older can come in and have a dental cleaning, extraction, filling, or root canal therapy done for free.
The team treats at least 145 patients on that day and donates more than $65,000 of dentistry to our community. On a global level, Dr. Uliasz has traveled to the Dominican Republic on mission trips where, together with other dentists, he has performed surgeries and bone grafts, placed implants, and helped many patients restore their teeth.