We recognize that all our patients are unique and deserve to receive dental care that reflects their individual needs. Our experienced and talented dental team is committed to working with you and your family to create a comfortable, stress-free, and rewarding dental experience every time you visit our practice.
We are pleased to welcome you and your family, and we look forward to working with you.
---
Ramona
Practice Administrator
Our practice administrator Ramona brings more than 25 years of experience in dental customer service, management, human resources, and finance to our office. She makes sure everything runs smoothly and works closely with Dr. Paul to implement our core values and vision. She leads our office with problem solving, creativity, and a passion for keeping Lee Dental Care a patient-centric office with the personal care our patients deserve.
Ramona and her husband Richard have been married for nearly three decades and have three children. Besides spending time with her family and traveling, Ramona is currently learning how to be a small-plane pilot and heads to the skies as often as she can.
---
Evelyn
Assistant Manager / Patient Coordinator
For more than 15 years, Evelyn has worked in the dental field, and combined a strong desire to help people with a drive for efficiency. She facilitates a busy front desk with grace and ease, and makes it her priority to greet each patient.
A long time Lee County resident, Evelyn loves boating, the beach, and experiencing different cultural cuisines.
---
Lacey
Patient Coordinator
Lacey has been with Lee Dental Care for seven years. A familiar face at the front desk, she handles the busy day-to-day with a quiet, friendly approach. Lacey keeps on task with efficiency and a smile, which ensures a great patient experience.
Lacey is a mom of two and enjoys fishing and spending time outdoors.
---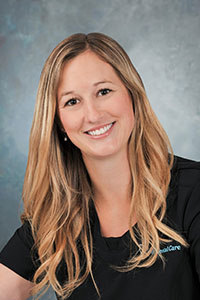 Nikki
Dental Hygienist
Nikki has been with Lee Dental Care since 2014 and has been a great asset to the hygiene department. She enjoys educating patients on their dental health while being gentle and efficient during cleanings. Her kind disposition is very comforting to even the most anxious of patients.
A wife and a mother to a toddler, Nikki keeps busy spending time outside, golfing, and doing yoga.
---
---
Cassie
Dental Assistant
With more than 14 years of dental experience, Cassie has a vast knowledge of the dental field. She excels in treatment plan coordination with insurance coding and estimations, as well as taking radiographs and assisting Dr. Espinoza during procedures. Cassie enjoys being part of improving our patients' smiles, overall health, and self-esteem by improving by their oral health.
Cassie and her husband will celebrate ten years together this year, and have two beautiful daughters. They also have a Chihuahua named Batman that they love dearly. Cassie's passion is theater, and she has studied and taken part in many productions throughout her life.
---
Mike
Dental Assistant
Mike started in 2014 with Lee Dental Care and has exploded into the profession: soaking up everything that he has come in contact with. He has a natural ability to lead with direction, keep the doctor on task and on time (as much as possible), and help our patients feel their best. Patients are put at ease by his confidence and explanation of each step.
Mike enjoys fishing, boating, and traveling when he has the chance.
---
Ron
Head Dental Assistant
Ron's knowledge of dentistry – he holds a Doctorate of Dental Medicine from the Dominican Republic – allows him to help patients understand their treatment. He's been with us since 2014 and loves helping people smile. As the Head Dental Assistant, Ron assists the doctor with procedures. He also reviews treatment plans with patients, clearly answering their questions. Additionally, Ron manages our assistants and scheduling to keep the flow moving smoothly.
Ron's free time is spent with his family. He also enjoys working out, playing baseball, and traveling.
---
Wendy
Dental Assistant
Wendy's warm and welcoming manner immediately makes patients feel safe. She joined us in 2014, bringing with her several years of experience. She loves working in a family-friendly office where our patients are the top priority. Wendy prepares patients for treatment, explaining what will happen and making sure they're comfortable in the chair. Staying at her patient's side, she assists the doctor with the procedure and talks with the patient about what they're doing.
Outside of work, Wendy loves going to the beach and traveling to new-to-her places.
---
Dee
Insurance Coordinator
Dee handles all new patient insurance verifications and is responsible for updating and maintaining existing patients' insurance information. Given her experience as a licensed dental assistant and patient advocate, she can answer any insurance question! One of Dee's favorite things about dentistry is seeing how our patients' smiles can transform their lives.
When she's not in the office, Dee enjoys reading, shopping, and traveling alongside her husband and two daughters.
---
Olivia
Patient Coordinator
Olivia's bright smile is what greets patients from our front desk. She is available to check patients in and out of their appointments, schedule future visits, and collect payments. Olivia loves getting to see our patients smile brighter after they've had their treatment, and hearing how grateful they are for their new smile. Every day, she goes above and beyond for our patients.
Olivia has been married for ten years. She has two dogs, Sundae and Sahara, who enjoy going on walks and playing at dog parks.
---
Danielle
Purchasing Coordinator
Danielle recently joined our office, and brought with her more than 35 years of experience in dentistry. She holds an MBA and is EFDA and radiology certified. Danielle looks forward to building lasting relationships with our family of patients.
Danielle is the proud mother of a son. She participates in as many volunteer dental activities as possible, as well as food and clothes drives, and feels blessed to be able to help those in need.
---
Shannon
Dental Hygienist
Shannon has been in the dental field for 20 years and received her hygiene license in 1997. Shannon shares over a decade of experience in the hygiene field with her patients. She has never met a stranger and forms great bonds with her patients sharing her down home personality.
Shannon keeps busy running three boys to sports and spending time with her husband.
---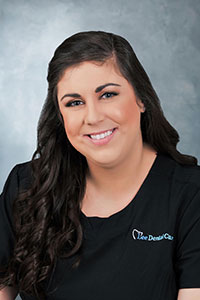 Rebecca
Dental Hygienist
Rebecca has been in the dental field for 3 years and received her hygiene license in 2014. Rebecca has received an Associates in Science in Dental Hygiene as well as a Bachelor of Science in Psychology. Rebecca gets a great joy out of ridding patients of their dental anxiety and making them comfortable with their smiles again.
Rebecca spends her time traveling and loves to read.
---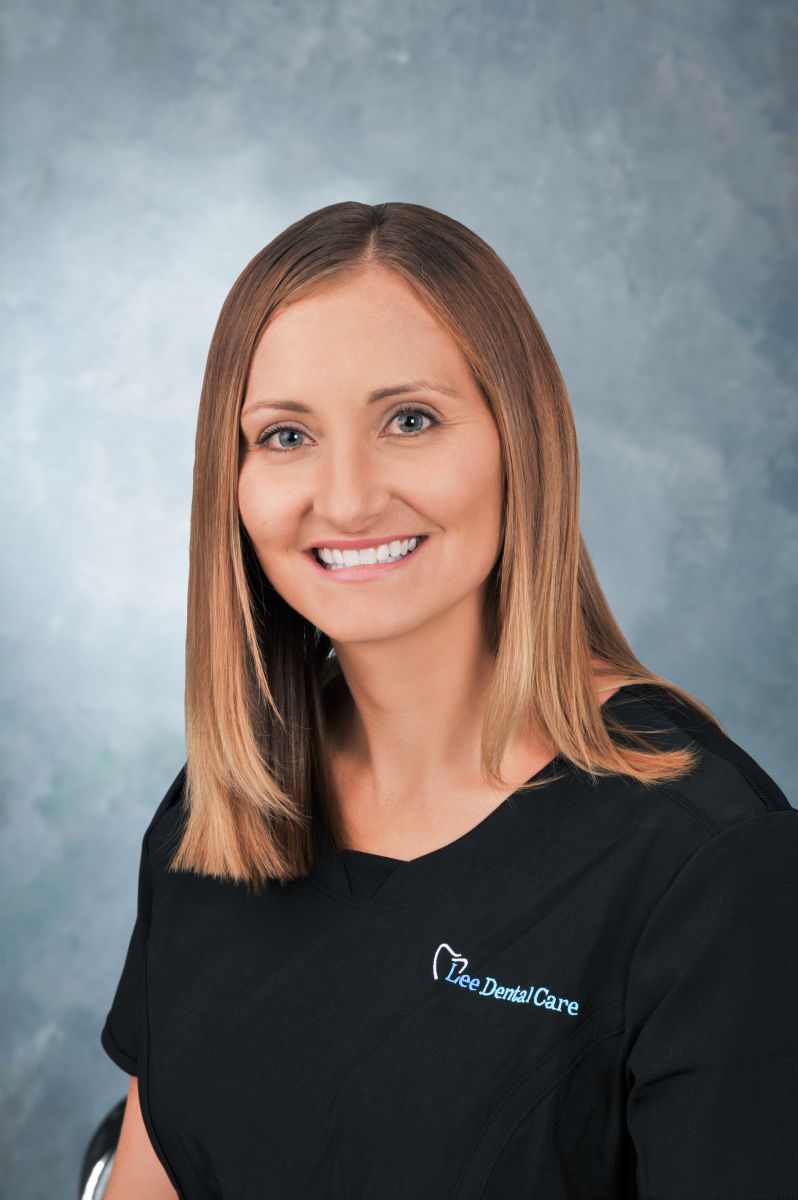 Michelle
Dental Hygienist
Michelle was raised in Fort Myers and recently moved to Alva where she spends most of her time on her new fixer-upper house. She enjoys spending time with her family and friends. 4 and 2 year old doughters keep her busy and on her toes.
She loves gardening, testing wild edibles and experimenting with cooking while listening to Gospel music. Besides her secret love for chocolate she loves hygiene and caring for people.
---
Jackie
Insurance and Billing Coordinator
Jackie enjoys working with patients to ensure they get the most from their insurance benefits. Her goal is to make sure patients understand their financial obligation, how their benefits will be applied, and to relieve the worry of paperwork. Jackie started in the dental field in 1998 and joined Lee Dental Care in 2014. She enjoys working in a positive, family-oriented office and is happy to help patients get the care they need, affordably.
Most of Jackie's free time is spent with her much-loved son.
---
Jocelyn
Dental Assistant
Jocelyn's warm and calm manner helps even the most reticent patient relax, knowing they're in a safe space. She loves assisting with different procedures and seeing how happy patients are with the results. After joining the dental field in 1991, Jocelyn recently became part of our dental family in 2017. She works in the clinic, preparing patients, taking X-rays, and doing lab work. She also works chairside, assisting the doctor while supporting their patient.
Jocelyn spends much of her time off with her three children. The family loves kayaking and hiking, spending weekends and the beach, and playing with their adopted poodle.
---
Paulina
Safety Coordinator
Paulina has been in dental field for over 10 years and she loves to work with people. Her passion is helping all people and she always does it with a smile and a "happy to do it" attitude. Paulina is a mother of three and she enjoys spending her spare time with her children.